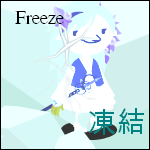 Freeze is an abnormal condition which slows down the puppet and monsters, the affected being will be covered in light blue, looking as if within ice, the affected being cannot attack, but can still use items from the inventory. This effect can be cured, and straightly even prevented with Wine, it not only cancels the effect, but also starts the Anti-Freeze effect, which prevents further freezing for a while, also, this effect is prevented when the entity is currently burning, but that is a quite impractical prevention. However, the Freeze and Blaze status conditions cannot coexist, Blaze instantly cancels Freeze when applied to the being. Because of that, Flaming Potion can be used to stop this abnormal condition as well.
---
Characteristics
Slower movement.
Cannot use weapons. But still can use items and magic.
Cures and preventions
Cures
List of items which cure this abnormal state.
One use

Magic
Preventions
Blaze abnormal condition.
List of items which prevent this abnormal state.
One use

Magical Accessories
Treasure Chest Rings
(Normal 50%, Double 75%, Triple 100%)
Causers
List of items, monsters and pets which cause this abnormal state.

Items
One use

Magic

Weapons
Monsters
Puppet Guardian
Magical Rooms

Pets
None.
Community content is available under
CC-BY-SA
unless otherwise noted.